Posted by Laurann Claridge on 16th Dec 2021
Every holiday season I love to head to my kitchen and bake up a big batch of Christmas cookies. For weeks I had been craving a crisp,but still chewy gingersnap cookie with that peppery bite of fresh ginger, rolled in coarse sugar crystals before it's baked. To give these gingersnaps a depth of flavor I brown the melted butter to a light "noisette" then add the spices to let them "bloom". Best yet, like most of the cookie batters I prepare, you can roll all the batter out, freeze and bake what you need when you need it. (Or crave a warm, baked cookie.) Enjoy! xo Laurann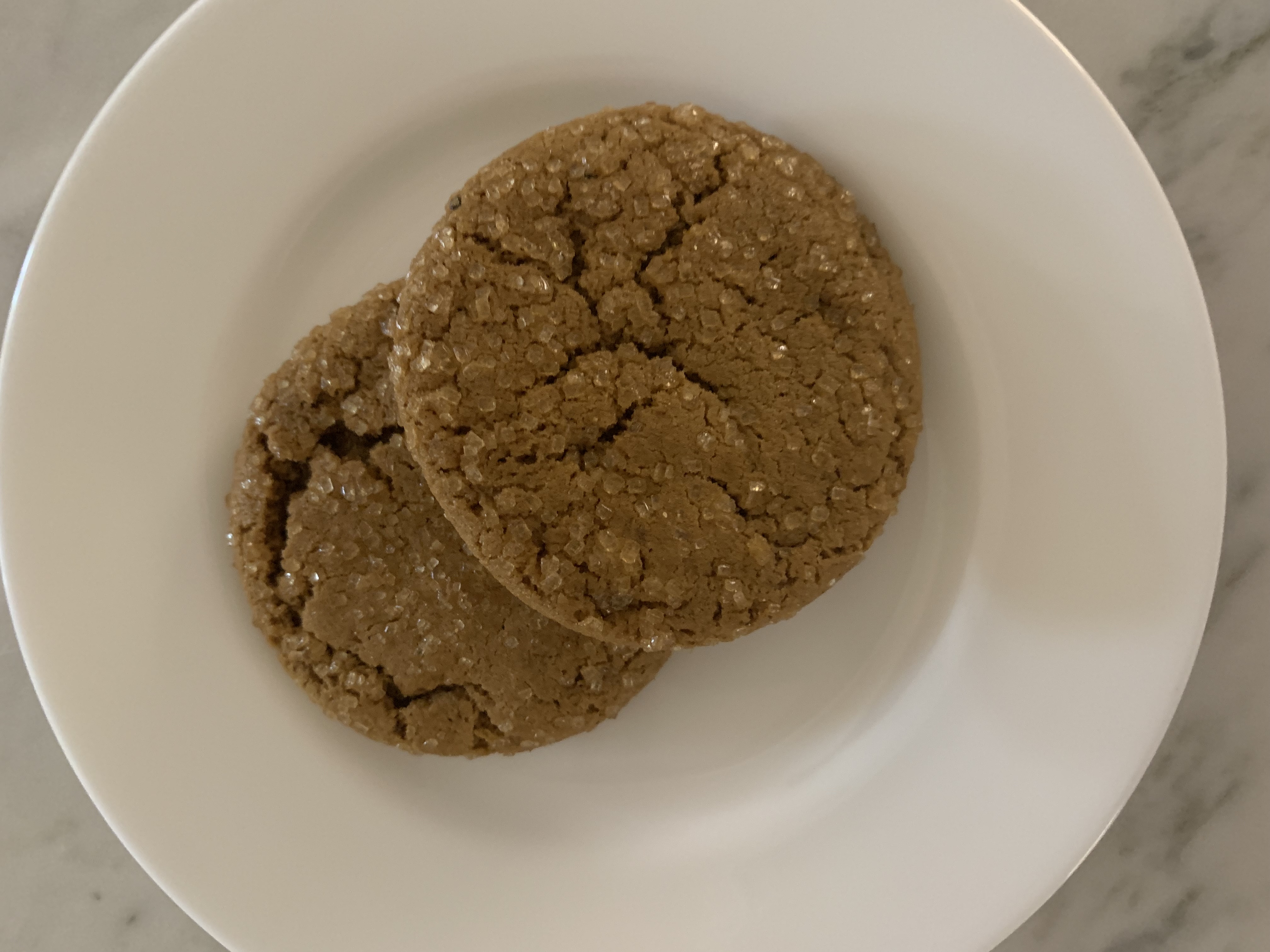 Gingersnaps
2 ½ cups all-purpose flour
2 teaspoons baking soda
½ teaspoon kosher salt
12 tablespoons unsalted butter
2 tablespoons ground ginger
1 teaspoon ground cinnamon
¼ teaspoon ground cloves
Pinch black pepper
1 ¼ cups dark brown sugar packed
¼ cup unsulphured molasses
2 tablespoons finely grated fresh ginger
2 large eggs
½ cup granulated or coarse sugar (I prefer Sugar in the Raw)
1. Set oven rack to center position. Preheat oven to 300 degrees F.
2. Line three backing sheets with parchment paper.
3. In a medium bowl whisk together flour, baking soda and salt.
4. In a 10-inch skillet (do not use nonstick or a dark bottomed pan or you won't be able to see the butter browning), heat butter over medium heat. Once melted reduce the heat to medium-low and swirl the skillet frequently until the butter solids begin to brown, about 4 to 5 minutes.
Quickly transfer the browned butter to a large bowl. Add ground ginger, cinnamon, cloves, cayenne and black pepper. Cool slightly for 2 minutes.
5. Add brown sugar, molasses, and fresh ginger to the butter mixture and whisk to combine.
6. Add eggs and whisk to combine.
7. Add flour to butter mixture and stir with a spatula until just combined.
8. Tightly cover and refrigerate dough until firm, about 60 minutes.
9. Roll the cookie dough into 1-inch balls (about 2 teaspoons each)*. Then roll in granulated or coarse sugar crystals.
10. To Bake: Evenly space cookies 2-inches apart. Bake one sheet at a time until the edges are just beginning to darken about 20 to 22 minutes, rotating halfway through baking. Transfer cooking to a wire cooling rack. The cookies will harden as they cool.
*(Dough can be scooped into balls, rolled into sugar and frozen for up to 2 months. Bake as directed above, no need to defrost.)